Épicerie solidaire - Vents du Sud
In February 2015, Centre Placet ASBL is developing a new social grocery project in Louvain-la-Neuve offering food aid and workshops to raise awareness about healthy and balanced nutrition in a friendly reception area, "Les Vents du Sud".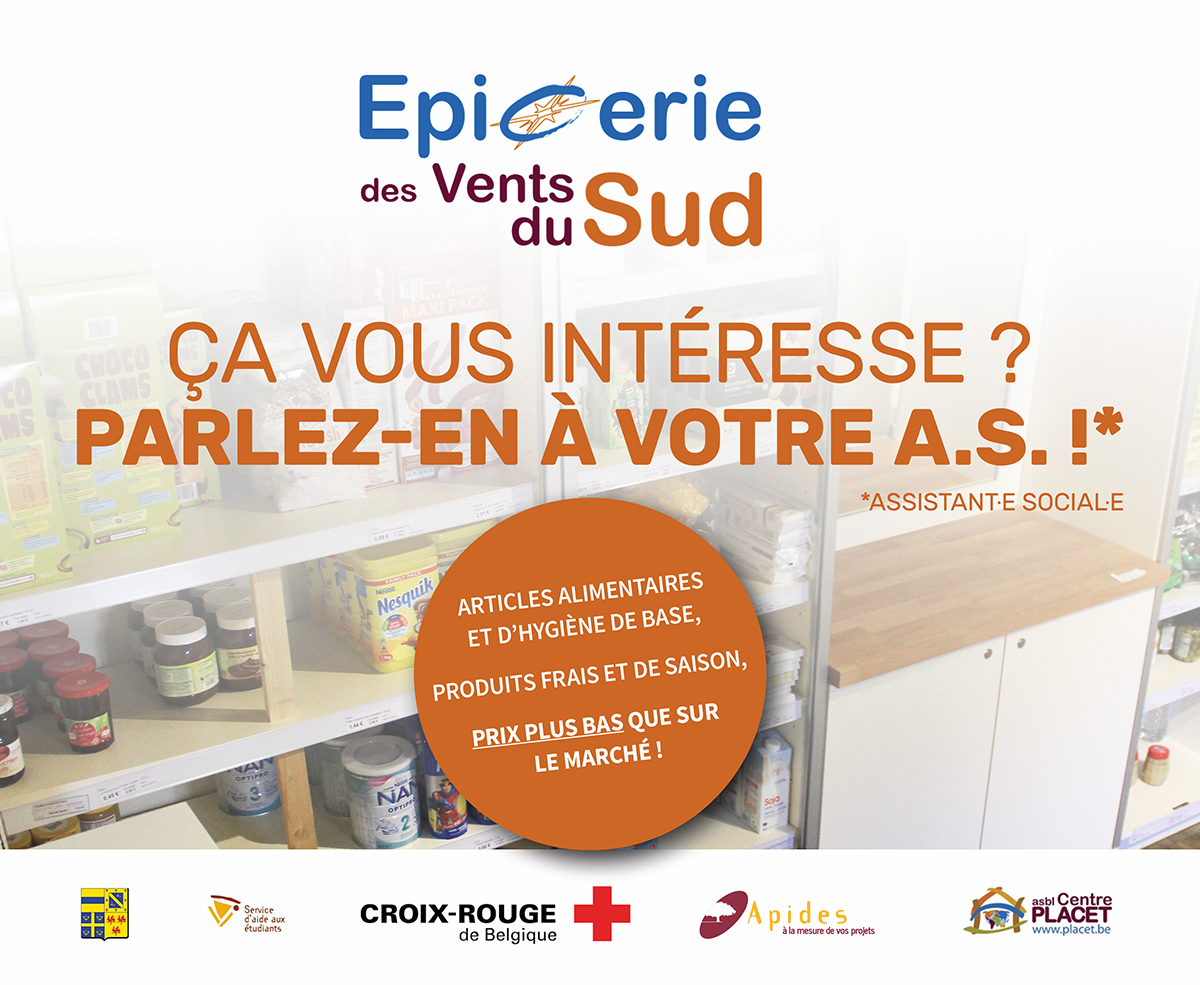 Advertising in French from the social grocery
Centre Placet, the UCLouvain Student Support Service, the City of Ottignies-Louvain-la-Neuve, the Belgian Red Cross and Apides are partners in the project.
The solidarity grocery shop of Les Vents du Sud is moving from Place de l'Hocaille to Rue des Bruyères 12, still in Louvain-la-Neuve.
The grocery shop will be open on Mondays & Thursdays from 1.00 pm to 5.30 pm. Following the COVID-19, a few measures will apply: going to the shop by appointment with the wearing of a mask is compulsory. Appointments can be made by telephone during opening hours
Téléphone : +32 492 / 90 29 30
You can consult the press kit, in French, of the social grocery shop at the inauguration by cliquant ici


Social security information for international students
The aim of this session is to inform international students about the functioning of the social security and social services partners in Belgium. The session draws the attention of the participants to the interest, for any foreign student living in Belgium, to be covered by a health care insurance called "mutuelle". The insurance covers part of the medical, pharmaceutical and hospitalisation costs, which are often very expensive in Belgium.
Distribution of food packages
Since 2020, the Entraide de Blocry association has been in charge of organising the distribution of food parcels and the Centre Placet has made its Grande salle available: distribution takes place every first Thursday of the month. Different types of products are offered, including European surpluses (basic food products), products from the Belgian Food Bank (usually surpluses and donations), food collected by the students of the kot à projet Alimentakot, as well as fresh products
Under certain conditions, for inhabitants of the municipality of Ottignies-Louvain-la-Neuve who benefit from the Integration Social Income (RIS) and for students from a developing country whose income is equal to or lower than the RIS.