Centre Placet offers activities throughout the year, allowing people to get to know each other, to exchange, to share, to learn, and to experience interculturality.
TO MEET, TO SHARE

Welcome dinner of 2020
First welcome
A first welcome area is set up in our premises. As soon as they arrive in Belgium, students can obtain useful information and advice on their new life in Louvain-la-Neuve. They are directed, according to their needs, towards shops, services and partner associations. They are also informed about the conditions related to the accommodation made available to them in the Hocaille district (installation, regulations and technical services), as well as about the advantages of a stay at the Centre Placet.
Welcome dinner
In order to allow the old and new residents of Centre Placet to meet and create links, a welcome dinner is organised in the Placet's main hall, shortly after the start of the academic year.
Team Building 
During this day, students and Centre Placet team members meet to get to know each other and to discover new places and projects in the city of Louvain-la-Neuve.
End of year evening "Living interculturality"
At the end of the first quarter, an end-of-year dinner is organised for the residents of Centre Placet. This meal is intended to be a moment of relaxation and reunion to exchange and strengthen the bonds of community life, but also to recharge one's batteries before the arrival of the blockade.
Intercultural week
To celebrate the end of the academic year, an intercultural week brings together Le Placet residents, staff members, neighbours and supporters of Le Placet. This warm moment of celebration is a great opportunity to congratulate the students on their success, to say goodbye to those who are leaving, and to encourage those who have a second term.
LIVING INTERCULTURALITY BY CREATING LINKS 

Cameroonian evening in 2021
Spending Christmas or New Year with a family
During the Christmas and New Year period, families in the city and the surrounding area offer international students the opportunity to share a meal and a moment of conviviality. This activity, organised with the Association des Habitants de Louvain-la-Neuve, offers students the opportunity to discover the lifestyle of a family living in Belgium and to meet new people. Registration required before mid-December. 
Meet Belgian students - Communité Métisse
The Communité Métisse is a project promoting exchanges between international students and Belgian and European students? in Louvain-la-Neuve, around different types of activities. A "match-up" evening takes place at the beginning of the academic year to create pairs.  More information 
Sharing with Belgian volunteers - Duo for Knowledge
The Duo for Knowledge (D4K) programme brings together international students and researchers with Belgian citizens interested in research, who offer their time for meetings and exchanges, but also for the review of academic work.  More information 
Meet at the North-South / South-South Exchange Workshops
The North-South / South-South exchange workshops offer international students and researchers from UCLouvain the opportunity to present their research topic to a large audience. The workshop is followed by exchanges between the speaker, experts on the research topic, and the audience.
TRAINING AND LEARNING FROM DIFFERENT CULTURES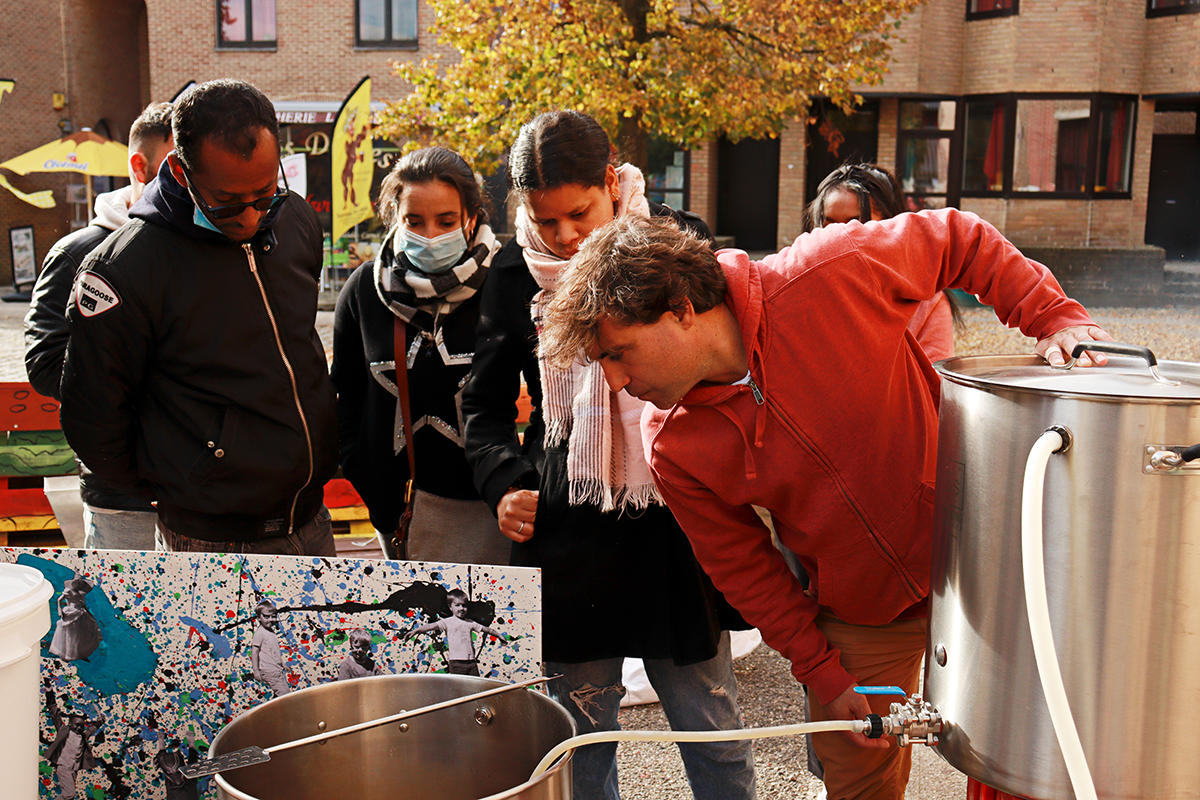 Beer brewing workshop in 2021
Brewing workshops
International students, residents and non-residents of Placet, including refugee students from the Access2University programme, and Belgian students, participated in 2 beer brewing workshops organised by Placet in collaboration with Brassikot. Another original opportunity for an intercultural encounter. 
Cooking workshops
Cooking workshops are organised throughout the year to teach students how to make easy, economical and healthy recipes using local and seasonal products. The workshops end with a tasting of the dishes prepared. They are limited to 15 participants, upon registration.
Workshop on cultural codes in Belgium
This workshop proposes keys to facilitate relations with the local population and integration within Ottignies-Louvain-la-Neuve. The workshop starts with concrete examples and allows for an exchange on the students' contacts and experiences with the Belgian population.
Microsoft Office and other trainings
In order to help students master the tools that will enable them to succeed in their academic year, various trainings are offered throughout the year, depending on their needs and the resources available to us.